Zafus have been used for everyday sitting in Asia for centuries. Today the zafu is rediscovered by Westerners for meditation, yoga, and a simple home furnishing. The zafu is perfect for sitting meditation and pranayama practice. Sitting in elevated "easy pose" (cross-legged) creates a pelvic tilt, bringing length and alignment to the spine. It is also great for stretching the back, and converts almost any chair into a tilt seat for autonomous sitting.
All zafus are filled almost to capacity for support, but with just enough room for pliability. They have a zippered opening and an inner pillow which allows you to add or remove the buckwheat hull stuffing for adjusting to your individual height/density.
Available in a variety of colors.
Dimensions: 5″ height x 15″ in diameter.
Weight: 5.5 lbs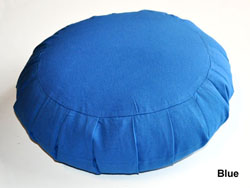 Solid Zafu Meditation 
$49.95
These round zafu cushions are made from exceptionally soft 100% cotton twill fabric and filled with buckwheat hulls.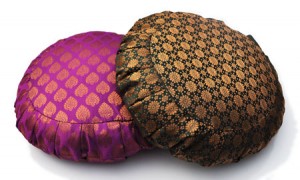 Sari Pattern Zafu Meditation Cushion
$59.00
Our beautiful sari zafu cushion is made in India from exceptionally soft 100% rayon fabric. It is filled with buckwheat hulls almost to capacity for support, but with just enough room for pliability. Our zafus have a handle and a zippered opening which allows you to adjust the buckwheat hull filling to your desired height/density.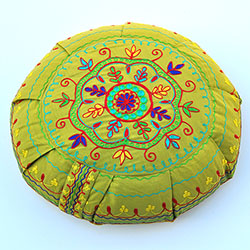 Barefoot Yoga Mandala Embroidered Zafu
$59.00 
These unique and beautiful zafus have mandala-inspired embroidery, offering an elegant and colorful update to traditional meditation cushions.
Share and Enjoy