Antioxidant Extreme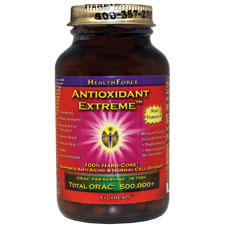 Price: $24.95    Quantity: 120 vegetarian capsules
Antioxidant Extreme (formerly Acai Resveratrol Ultimate ORAC) from Healthforce Nutritionals is a natural antioxidant supplement that nutritionally supports anti-aging and normal cell division, recovery and rejuvenation.*
New Version 8
Supports anti-aging and normal cell division, recovery and rejuvenation*
Essential for all health programs plus great for athletes to help enhance recovery!*
ORAC per serving: 16,700+
Contains Whole Food Extracts
Contains Turmeric, Goji Berry, Grape Seed, Green Tea and Pomegranate.
Contains Therapeutic Antioxidant Activators
Vegan
Healthforce Nutritionals goal was to make the most deeply effective and highest ORAC (oxygen radical absorbance capacity) antioxidant product (both water AND fat soluble) with benefits far beyond ORAC Free radicals wage a war of destruction on your DNA, contributing to virtually every disease, degenerative and aging process known*. So many products tout benefits but simply do NOT contain the correct botanicals and quantities of them, to be effective. Antioxidant Extreme allows you to actually achieve the benefits that research shows these amazing nutritional substances can provide!
The supportive Herbal Antioxidant Activators are extremely potent antioxidants and significantly increase the absorption and effectiveness of the other botanicals.
Metabolic Antioxidants: Milk Thistle Seed extract goes beyond ORAC by supporting the liver to make even more powerful metabolic antioxidants (SOD, Glutathione)
Ingredients:
Supplement Facts
ORAC per Serving: 16,700+
4 VeganCaps contain:
ORAC Root Complex 750mg 
Resveratrol ORAC Complex 300mg
—Trans-Resveratrol: Extract (50%) 150mg
—Resveratrol: Whole Food** (Polygonum) 150mg
Herbal ORAC Complex 660mg
—Grape Seed Extract (95% Proanthocyanidins) 500mg
—Green Tea Extract (90% polyphenols, 40% EGCG) 150mg
—Pine Bark** Extract (95% OPCs) 10mg
Herbal Antioxidant Activators 268mg
(Significantly increases Bio-Assimilation and results)
—Organic Cinnamon*
—Organic Black Pepper*
—Organic Ginger*
—Organic Peppermint*
ORAC Fruit Blend 22mg 
—ACAI** (2% anthocyanidins)
—Fruit Concentrates: Strawberry, Pomegranate, Grape, Blueberry, Blackberry, Cranberry
—Mangosteen Extract (30:1)
—Goji Berry Extract (20% polyphenols)
Other Ingredients: None! I.E.
Contains NO: fillers, flow agents, synthetics or toxins.
*Organic
**Wildcrafted
Recommended Use:
Adults: 4 VeganCaps per day. Not an "all or nothing", just 2 VeganCaps are extremely beneficial and far more potent than other products.
Intensive Usage: 8 or more VeganCaps per day. Ideally spread out over 4 to 8 servings.
Suggested Adjuncts:
A whole food, organic, Vegan diet, with emphasis on high – water content raw foods, lots of fresh vegetables, fruits and their freshly made juices; a high fiber diet (only whole plant foods have fiber); HealthForce Vitamineral Green and Earth (Two unique and extremely dense superfood complexes for comprehensive nutritional support); Liver Rescue 4 (for metabolic antioxidant enzyme support (SOD, Glutathione); exercise (try rebounding!); and fresh air. Remember that house plants clean the inside air we breathe!
HealthForce truly cares and is deeply committed to researching and developing the highest quality, most effective, best value, life enhancing and non- toxic products for ultimate nutritional support, environmental responsibility and a cruelty-free world.
Warning:
If you are pregnant or nursing, please consult your healthcare professional before using this product. Keep out of the reach of children.
Share and Enjoy