Eco Travel Neti Pot Starter Kit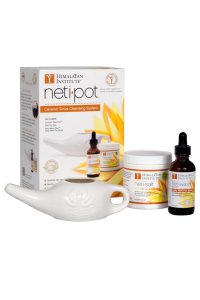 Contains:
1) A biodegradable neti pot
2) 12 oz un-iodized pure salt
3) Neti Wash Plus Daily Boost – to help sooth dry nasal passages
Why a Nasal Wash?
The nasal passages are lined with a thin layer of mucus that is one of our body's first lines of defense against disease. A nasal wash keeps this layer of mucus moist, clean, and healthy. Compared to other nasal wash techniques, using the Neti Pot is easy. A nasal wash can be as routine as brushing your teeth.
Use it anytime to:
Remove excess mucus due to congestion
Rid nostrils of pollen and other allergens
Cleanse the nasal membranes of dust, smoke, or other airborne contaminants
Relieve nasal dryness due to air travel
Improve flow of breath before doing relaxation or meditation techniques
Share and Enjoy